01 Jun 2020
Cloud Expo Asia - Expert Interview - Mr Phil Scanlon, VP of Sales Engineering, Asia Pacific & Japan at Solace Corporation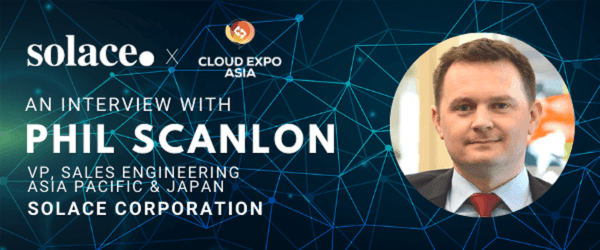 Ahead of Solace Corporation's session at Cloud Expo Asia, Mr Phil Scanlon, VP of Sales Engineering, Asia Pacific & Japan shares his insights in the DevOps and cloud-based infrastructure, as well as professional tips to fellow DevOps and IT specialists.
Is there any new digital innovation that directly affects your line of business during the recovery of the pandemic?
Solace is a provider of advanced event brokers. With the pandemic having brought about the need for businesses to digitise their operations and infrastructure, Solace has seen two key trends:
For organisations already prepared for scale and volume, we are seeing the validation of our technology in its ability to isolate legacy systems from dynamic, unpredictable loads from outside the organisation. This allows them to react to the beginning of the 'new normal' of fast-changing business networks, an urgent need for businesses to digitise, and the need to react and pivot to the new economy. They are also able to scale event-based microservices, and are using cloud infrastructure for unexpected bursts of data volume.
We are seeing an increasing demand for the exchange of real-time information. Organisations attempting to retro-fit systems to do this on top of existing systems are struggling. We are helping customers isolate older legacy systems from the new demands through the adoption of an event-driven architecture as they increase the pace of digital transformation.
With the benefits of cloud-based infrastructure, how do you predict the IaaS or PaaS industries growing as more businesses move towards digitalisation?
Some key benefits of cloud infrastructure include:
The flexibility to quickly try out new models/technologies and to fail fast, therefore being able to quickly identify which models work best.
The ability to leverage PaaS, IaaS, MaaS, IPaaS products to try higher level services with less time needed for set-up.
The use of IaaS is clearly growing as commodity IT capabilities are more efficiently managed in a cloud platform. Where businesses need to be careful is building critical "Core Business" applications and flows in these environments. When adopting new platforms, some businesses fall into 'future lock in' as they select services only available in cloud platforms, or using proprietary APIs between components. These are typically easy for developers to just start using without thinking of longer-term total cost of ownership (TCO). Standards are starting to remove this 'proprietary' nature, so it's great to see customers understanding the value of being able to move workloads between clouds (multi-cloud) and even back into their own data centres.
Solace provides a Messaging as a Service (MaaS) in all major cloud platforms as well as on-premise, through an open standards-based Event Broker. By leveraging Solace, applications can be distributed across locations, but importantly are also abstracted from the cloud provider, meaning you have portability between cloud providers. Adopting open standards for communication means you are also not locked into Solace.
What are areas in DevOps with the biggest potential to be developed in the rest of 2020?
We have many of DevOps tools made available via Solace Labs and Solace Products. The areas we see developing are the Standardisation of APIs to make it easier for different tools to interact with. One such example from Solace is the evolution of the AsyncAPI. Solace has been driving interoperability of event driven architectures through this industry collaboration and we are seeing increasing adoption of AsyncAPI. We have AsyncAPI support in Solace's Event Portal, and have released some code-generation capabilities.
What do you see as a factor that slows down the wider adoption of cloud-native infrastructures for businesses? Your advice to resolve this concern?
Businesses need to work through a transition period as they modernise monoliths to event driven cloud-native applications. The biggest factor in adoption is that existing data and events are locked in legacy systems. Directly accessing legacy applications via APIs simply does not match the speed and volume of modern applications.
Our advice is to consider adopting an event mesh to span these different environments. This allows the decoupling of systems, provides a shock absorber between environments and allows application teams to focus on business logic, rather than solving data access issues.
Advice to fellow DevOps and IT specialists, or anything you would like to share with our audience.
My advice is to understand the technologies involved and the long term costs of cloud-native applications. Platforms are always evolving, and generally require continuous investment in time and skills to keep platforms current, and adjust applications as components come and go. Just because you can re-develop an application cloud-native does not mean you should. While doing so, developers and architects really need to understand concepts such as deferred execution, eventual consistency, event-centric architecture and common query responsibility segregation (CQRS) to get the value out of cloud-native. The worst outcome would be having to rebuild the same monolith around a database on a cloud platform.
For Solace Corporation related inquiry, you may reach out to Phil at phil.scanlon@solace.com.