10 Jun 2020
How the age of Coronavirus is affecting Occupational Therapy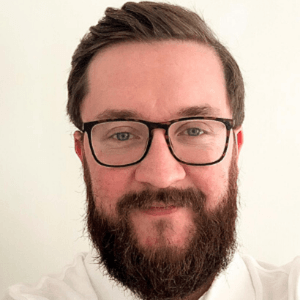 During his career as an Occupational Therapist, Jordan has worked across a variety of different settings - including A&E and Trauma and Orthopaedics. Working now for King's College Hospital NHS Foundation Trust, he's faced with the challenges of being an Interim Team Lead during COVID-19 in the Frailty Assessment Unit.
Occupational Therapy departments up and down the country are focusing on rehabilitating and accomodating patients after suffering from COVID-19. New methods have had to be recognised, turning around facilities in a short space of time has taken effect, and professionals like Jordan have had to learn to adapt on the job in a short space of time.
For patients needing rehabilitation, Farquhar explains:
"The focus on rehab is rightly being prioritised. From a higher level, the Trust is working on recovery planning strategies to further develop rehabilitation post-COVID 19." From a higher level, the Trust is working on recovery planning strategies to further develop rehabilitation post-COVID 19."
After having Coronavirus, patients need appropriate steps in place to help with the integration back into community and independence. Jordan and the team have been adapting to new ways of working, preparing relevant strategies and tools to aid onward rehab. He goes on to say:
"We've set up a rehab specific hospital-to-home unit, within days and weeks. Usually, this will take months of planning."
With these preparations in place, OT services can concentrate more on quality care and the rehabilitation of patients, rather than losing consistency because of a backlog of rehab that hasn't been taken care of.
To help with the challenges bought on by the COVID-19 pandemic, staff redeployment has played a vital role in healthcare to support the NHS. Not only are doctors and nurses being asked to work in different departments, but it's happening across occupational therapy. Jordan himself hasn't been redeployed, but certain members of senior staff have, causing change within the team.
Farquhar states: "Our service has changed quite dramatically in terms of our staffing levels, there has been another internal service set up which rotas have contributed to and then been redeployed to support our skill sets. In terms of my role, it's kind of remained the same, but I think it's impacted me in the sense of the team being changed quite dramatically."
As a result of this, the responsibility placed on Jordan has increased due to the redeployment of staff in the pandemic. Having these staff changes places Jordan in the role of having to quickly and efficiently train junior staff to match the skill set of his team. He goes on to say:
"I think it's just making sure our team is very structured in terms of support and making sure that more junior staff are supported and supervised properly, and know that we're probably in a better position at King's in terms of our staffing than other places, which we can be aware of. It's doing what you can for the team to ensure everyone feels supported as we are all having to undertake tasks not usually within our remit."
The role has dramatically changed as a result of the pandemic, and the team has had to rapidly adapt to the turnaround of staff who are being placed in other areas. Jordan, his team, and King's College Hospital are more than competent to deal with the new changes that are happening.
A positive reaction that's come out amongst professionals during the crisis is collaborative teamwork between disciplines. During a time of national crisis, it's this teamwork that's going to enhance the quality of healthcare that's being carried out by varying professions. Farquhar said:
"Everyone has developed and maintained such a positivity over these three months. and that's not just within the OT team. We work very closely with the physiotherapy team, speech and language therapy, as well as the ward doctors and nurses. It's been tough to maintain such positivity, however, it's been a real multi-disciplinary effort"
In this situation, a team effort is a huge part of learning and development against the current crisis. The work that Jordan and the team have been carrying out has been beneficial in ensuring safety and rehabilitation of patients. These skills that have been learned throughout the pandemic, are going to be skills they carry with them for the rest of their professional lives.