Digital & CRM Executive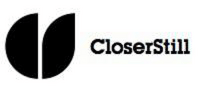 Contact Name: Alexia Maycock
Email Address: alexia.maycock@closerstillmedia.com
Location: London
Salary: £22,000-£24,000
Closing Date: 31-Jan-2019
Join our highly successful Graduate Scheme in our London office near Kensington, to fast start a career in event management, marketing or sales. More than half our company have joined through the graduate scheme and many have gone on to find highly rewarding careers in their chosen field within the company. If you're looking for a graduate scheme in a fast growing, international company, the chance to own shares in the company and a fast paced environment this is your ideal opportunity.
Who are Closer Still Media?
The fastest growing exhibition company in Europe with over 200 staff and offices in London, Paris, New York, California, Singapore and Hong Kong.
We run more than 30 leading events in the dynamic technology, learning and healthcare sectors.
Named by the Sunday Times as one of the top 100 companies to work for in the UK in 2018.
Top 100 companies in the Sunday Times International Track for companies with the fastest growing international sales (2016,2017 and 2018)
A rapidly growing company. Our Enterprise Value increased fivefold from 2012-2015. Since then we have doubled our profits. We are backed by Inflexion Private Equity.
Recognised in the 2017 FT1000 league table of the fastest growing European businesses.
Winners of more than 20 major industry awards in the last six years including most respected company and best management team as well as best exhibition awards.
What does the job entail?
You will need to quickly understand the exhibition business and how our business model has disrupted the markets in which we operate.
The role will initially involve telemarketing to attract delegates to our events. You will help to identify the most valuable delegates and develop strategies to best target these groups.
Once you have proven yourself in this role we will help you develop your career in one of our other departments, likely to be a sales, event management, marketing or content related role.
You will receive full training to help you best develop within the company. You be working on strong and growing products within a fast paced environment as part of an excellent team.
Excellent opportunities for international travel and a vibrant and inclusive working environment.
What candidates are we looking for?
Individuals who demonstrate initiative, determination and creativity.
Have a strong commercial awareness and maturity as well as a winning attitude.
Can work as part of a team and possess leadership qualities.
Great communicators who are articulate with excellent writing skills.
Individuals who demonstrate a persuasive and positive attitude and cope well with a pressurised, deadline driven environment.
It's a great opportunity to join a successful international, entrepreneurial business. If you have an aptitude for events you will quickly move in to a role with responsibilities and be at the forefront of international or domestic new event creation and development.