CloserStill Media celebrates 4 winners in Exhibition News' 30underThirty Class of 2021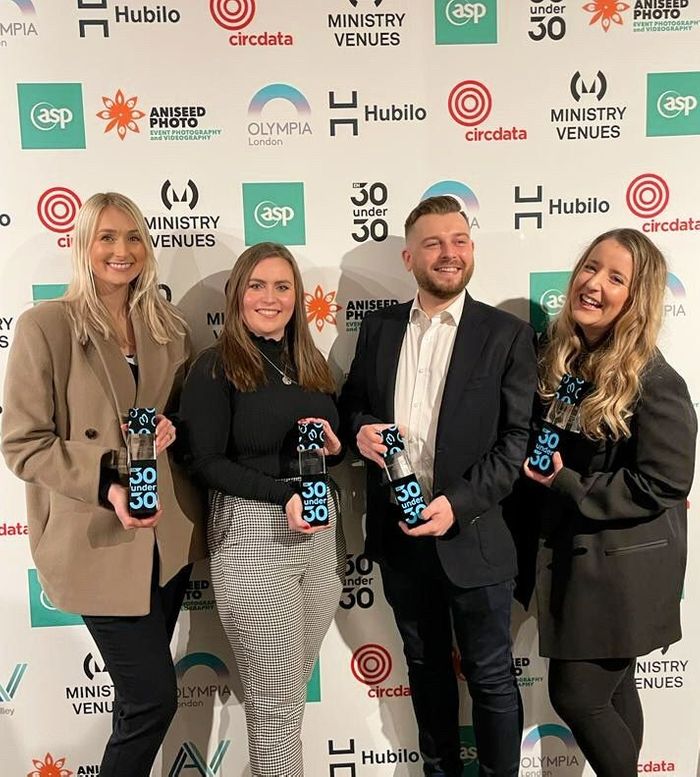 LONDON 21st January 2022: Exhibition News celebrated the winners of the 30underThirty Class of 2021 ceremony this week which included four of the talented CloserStill Media team - Brodie Ward, Head of Conference & Logistics, Daniel Evans-Jones, Operations Executive, Sarah Tully, Show Manager and Shannon Cargan, Group Marketing Manager.
'I was so honoured to have been considered for this and to now be joining such a great group of young talent. I am so grateful to work with such a great team and for the wonderful support network around me. Excited for what's to come!' Brodie Ward, Head of Conference & Logistics
'It's a real privilege to be included in this group of exceptional events specialists. I'm looking forward to getting my teeth stuck into the programme throughout the coming year and can't wait to get to know my peers in the EN30UnderThrirty class of 2021!' Daniel-Evans Jones, Operations Executive
'Really proud to have been included alongside such a talented group in the EN30UnderThirty Class of 2021. Looking forward to the opportunity to learn from this diverse cohort of young leaders, and the wider industry, as well as the programme of events across the year.' Sarah Tully, Show Manager, CloserStill Media
'I am honoured to have been selected as one of Exhibition News' 30 under 30 winners, class of 2021. Despite the pandemic, I've had a wonderful two years at CloserStill Media, working with supportive management that have developed my skills. A special thanks to my own incredible team that have been integral to the success of all our shows.' Shannon Cargan, Group Marketing Manager
The Ceremony took place at Ministry Venues on Wednesday 19th January where winners were awarded with their trophy for all their remarkable achievements during a year that placed much challenge on event professionals all around the world.
The Class of 2021 showed immense perseverance to overcome obstacles that they faced during 2021 and is exciting to see what 2022 has to offer for all the winners.
About CloserStill Media
In the last 12 years, CloserStill has been repeatedly recognised as a leading innovator within the Exhibition Industry and has won more awards than any other event business in the industry. We have won over 60 major industry awards, including the coveted 'Best Business Exhibition' seven times, featured in The Sunday Times 100 Best Places to Work 3 times (2018, 2019 & 2020), been voted by members of the Association of Exhibition Organisers as the 'Most Respected Company' in the exhibition Industry. The awards are down to the people and teams that work together to deliver the events ensuring customer service and satisfaction. The accolades include: Best Trade Show (x7), Best Marketing (x9), Best Operations (x4), Best Sales (x5), Best Event Director (x4) and Best Launch or Brand Extension (x6). Adapting to digital during 2020, we have also won 4 awards at the new Digital Event Awards.