24 Nov 2022
Leading diabetes conference gives 'vital boost' to care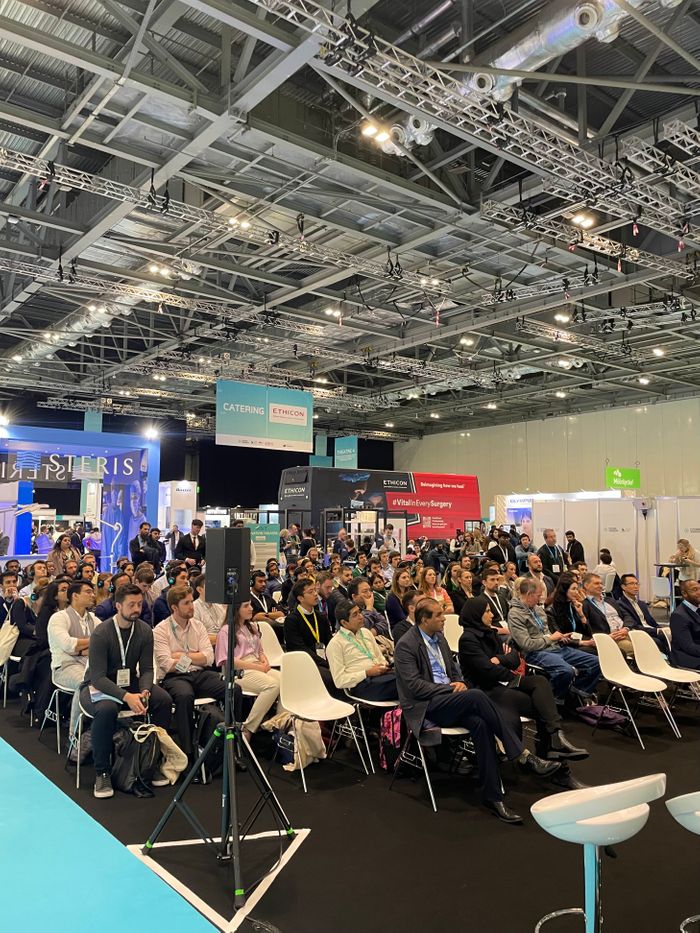 A record-breaking number of healthcare professionals attended Diabetes Professional Care to learn about the latest best practice to boost frontline NHS services.
Diabetes Professional Care, the UK's leading conference for healthcare professionals working in diabetes which provides free education to support the NHS to improve care, took place on Wednesday, November 16, and Thursday, November 17, at Olympia London.
A wide range of healthcare professionals, including Diabetes Specialist Nurses, practice nurses, GPs, consultants, podiatrists and dietitians, attended the conference along with the diabetes leads from across the UK.
Representatives from Primary Care Diabetes Society, the Association of British Clinical Diabetologists, Trend Diabetes, the DSN Forum and the Joint British Diabetes Societies for Inpatient Care were also in attendance at the CPD-accredited education event.
Speaker Professor Ketan Dhatariya, Consultant Diabetes and Endocrinology and Chair of the Joint British Diabetes Societies Inpatient Care Group, said: "DPC has once again proved invaluable in providing vital education, sharing best practice and spreading knowledge to healthcare professionals delivering diabetes care. The show continues to go from strength to strength."
Fellow speaker Professor Alan Sinclair, Director, Foundation for Diabetes Research in Older People (FDROP), said: "This is an important show to get messages across to healthcare professionals working in diabetes care. DPC is excellent at providing high-quality and practical information which teams can take away and implement."
Agnes Jacobs, Content Lead for Diabetes Professional Care, said: "It was a privilege to host DPC once again and provide the NHS with such a vital boost to diabetes care. We put together a high-quality programme filled with sessions which reflect the latest best practice and knowledge in diabetes care."
Professor Partha Kar and Professor Jonathan Valabhji provided updates on the NHS Diabetes Programme at the NHS Park. Professor Roy Taylor talked about remission of type 2 diabetes, Dr Amar Puttanna covered diabetes and dementia, while Dr Jim Moore, President of Primary Care Cardiovascular Society, reviewed the latest evidence SGLT2 inhibition in people with heart failure.
Other highlights on day one included a session on injection technique from Nurse Consultant Debbie Hicks, Co-chair of Trend Diabetes and Chair of Injection Technique Matters Initiative, while Professor Pratik Choudhary spoke about how to use CGM in primary care.
There was a talk about the latest evidence supporting the use of flash glucose monitoring in people with diabetes by Dr Lalantha Leelarathna on day two where there was also a presentation from Professor Alan Sinclair about implementing the 2022 National Advisory Panel for Care Home (NAPCHD) Diabetes recommendations.
Diabetes and Endocrinology Pharmacist Ines Fonseca, Dr Kevin Fernando and Professor David Strain also took part in the Big Guideline Debate. Professor Ketan Dhatariya provided an update on JBDS guidelines and June James, Co-founder and Co-chair of Trend Diabetes talked about diabetes hyperglycaemic emergencies.
Delegate Sonia Galang, a nurse at The Royal Marsden Hospital, said: "It was well organised, I like the way you can dip in and out, much more flexible having a rolling programme. Other shows tend to dictate."
Fellow attendee Evette Row, a podiatrist from Homerton Healthcare, said: "It was easy to get to, more organised with lots going on. I like this show because it's not just about the feet, I have learned a lot about the whole body."
Reena Patel, a Diabetes Nurse Specialist, from Spinney Hill Medical Centre, said: "It was really nice to have this big exhibition with all the resources."
Commenting on the rise of DPC, Oliver Jelley, Editor of The Diabetes Times, said: "DPC is firmly at the forefront of diabetes education diabetes care in the UK, with the conference providing a platform for free education for the NHS."
Diabetes Professional Care 2023 will take place on November 15 and 16. To register your interest visit diabetesprofessionalcare.com/2023.
Twitter: @diabetespc
Facebook: https://www.facebook.com/diabetespc/