Learning Technologies France 2022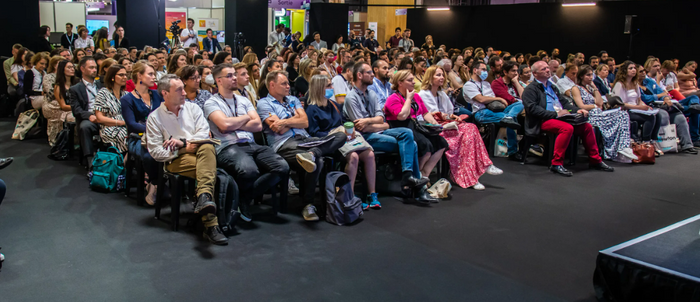 Paris, June 7, 2022 After more than two years of waiting, the French e-learning industry was able to meet again at Learning Technologies France 2022, on May 18 and 19, the leading European exhibition and conference dedicated to Digital Learning. The attendance and atmosphere were exceptional, reflecting the enthusiasm of the learning community to meet face-to-face again at Porte de Versailles.
During this 2022 edition, Learning Technologies France has grown to 241 exhibitors - an increase of 15% compared to 2020 - and a total area of 8500 square metres – an increase of 20%. The number of visitor badges also increased by 7%. The show welcomed more than 7,000 learning and training professionals over two days who actively participated in 150 free seminars in four plenary conference rooms, and demonstrations of the very latest digital learning technologies in six open theatres.
Major companies presented their case studies (Safran, Air France, L'Oréal, Canal+, Boehringer Laboratories, Bureau Veritas, Windar, Sanofi, Faurecia, GSK Vaccines, INSEAD, Kedge Business School, Nataxis, ANAP, Groupe Pierre Fabre and Groupe Atlantique) as well as numerous technological innovations, and an exciting dive into the Metaverse with the architect Manal Rachdi. Something for everyone!
Next to the start-up village, bringing together more than 60 French innovators (members of Edtech France and Lab RH), Learning Technologies France inaugurated a new conference room dedicated to innovation in learning technologies. As part of this new programme, we have looked at virtual reality, artificial intelligence, and neuroscience in the service of pedagogy. AND a very special first: a session dedicated to venture capital in EdTech with a keynote by Marie Christine Levet, Co-Founder of Educapital followed by a round table with David Guerin, Principal at Brighteyes Ventures, Anne-Charlotte Monneret, Co-President of Edtech France and Jérôme Bruet, Business Angel specialising in learning start-ups support.
One of the key events of this 2022 edition was a series of presentations and book signings by leading authors: Emmanuelle Joseph-Dailly ("La stratégie du poulpe, 60 récits du vivant pour inspirer nos organisations : collaboration, innovation, résilience") ; Etienne Bressoud ("Nudge et autres coups de pouce pour mieux apprendre: Former et se former avec les sciences comportementales"); Adilson Borges (Test & Learn, la stratégie des entreprises agiles); Arnaud Collery ("Mister Happiness : Un chief happiness officer vous livre ses secrets pour vous réinventer") and Charles Jennings (70:20:10 Framework Explained: Creating High Performance Cultures).
The inaugural keynote focused on the French results of the Global Sentiment Survey conducted among training managers by Donald H Taylor, Chair of the Learning Technologies conference in London. The data showed that learning leaders in France share the same three main challenges as the rest of the world:
1. Managing the post-pandemic digital transformation of work and learning
2. Increase the learning budget - do more with less
3. Demonstrate value and return on investment in learning
These three concerns were on the agenda of the main conference that followed, the recording of which will soon be available on-demand via the official exhibition app.
Exhibitors and visitors were delighted with this edition, and we look forward to meeting them all at the next Learning technologies France exhibition, on February 1st and 2nd, 2023 at Paris Expo, Porte de Versailles, Hall 7.1
"An extensive show with interesting conferences and several exhibitors, including an enriching start-up village to explore" E-Learning Pedagogical Engineer, CNED
"I enjoyed the conferences greatly. I discovered how to implement solutions in a company thanks to other employees' feedback" Instructional Designer, Thales
"I look at this experience like a child discovering 'Disneyland'!! I wish I could share all the magic and possibilities I found at the show....virtual reality, media, applications, platforms...I travelled from Las Vegas to Paris via Berlin and London... I had the opportunity to see expert speakers, learn about the current topics on training and its challenges for organisations which has been a great source of inspiration. I'll be transferring them into my practice" Advisor Referent Trainer, National Resource Centre for Rare Handicap and Deaf blindness
About CloserStill Media
In the last 12 years, CloserStill has been repeatedly recognized as a leading innovator within the Exhibition Industry and has won more awards than any other event business in the industry. We have won over 60 major industry awards, including the coveted 'Best Business Exhibition' seven times, featured in The Sunday Times 100 Best Places to Work 3 times (2018, 2019 & 2020), been voted by members of the Association of Exhibition Organisers as the 'Most Respected Company' in the exhibition Industry. The awards are down to the people and teams that work together to deliver the events ensuring customer service and satisfaction. The accolades include: Best Trade Show (x7), Best Marketing (x9), Best Operations (x4), Best Sales (x5), Best Event Director (x4) and Best Launch or Brand Extension (x6). Adapting to digital during 2020, we have also won 4 awards at the new Digital Event Awards.