The biggest gathering of Occupational Therapists in two years – How The Occupational Therapy Show reunited the OT community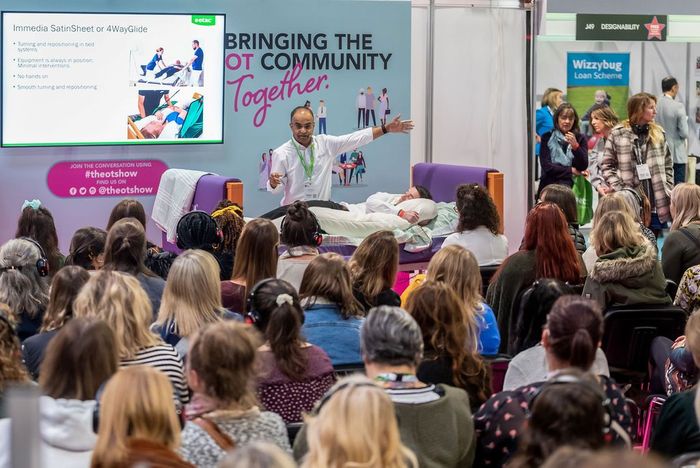 On the 24-25 November 2021 The Occupational Therapy Show welcomed 1000s of Occupational Therapists of all bands and specialisms back to the NEC, Birmingham for the must attend event in the OT calendar.
It had been two years since the last edition, making it the first major reunion for the OT community since the pandemic began. It brought together a multitude of different practitioners from health organisations, social care services, housing, education, to voluntary organisations, plus many more. To see the OT community reunite and meet each other in real life after supporting one another online for over a year "was an empowering and exciting experience" commented Janet Tulip Specialist Practitioner Occupational Therapist.
The OT Show is a place to educate, inspire, and raise the profile of an important allied healthcare profession. The two-day event consists of a comprehensive free conference programme, with over 270+ leading healthcare suppliers in the exhibition hall and is a place to facilitate important discussions through networking. This year there was a real buzz in the air as visitors, exhibitors and world-class speakers came together once more.

"Very informative, an enjoyable day to learn and explore new products and equipment." - Suki Shoker, Occupational Therapy Assistant.
The Occupational Therapy Show highlights included welcoming some very important people to the OT community reunion, including Tanni, Baroness Grey Thompson DBE, DL, one of Britain's greatest Paralympic athletes and the hilariously funny Lee Ridley AKA Lost Voice Guy winner of Britain's Got Talent 2018.
Tanni, Baroness Grey Thompson DBE, DL, competed in five Paralympic Games winning 11 gold medals, 4 silvers and 1 bronze and is acknowledged as one of the most gifted and courageous sportswomen of her generation. Her session on Wednesday 24th November was a hit, with huge queues of people waiting for her talk Seize the Day to begin. She discussed her own personal experience of being a wheelchair user, moving from sport to politics, and what would be next for disabled people.
The second VIP couldn't join in person due to Covid. However, that didn't stop visitors from taking the rare opportunity to attend the session virtually and have Lee Ridley AKA Lost Voice Guy answer their questions. Since making his first stand up performance, Ridley has gained quite the reputation for being both very funny and unique. He hosted his session at The Occupational Therapy Show on Thursday 25th November where he talked about living with a disability and how occupational therapy helped get him to where he is today. It was incredibly insightful listening to him discuss what it was like growing up without a voice and how he turned that into an advantage to become the successful comedian he is today.
In-person learning has been especially missed during this pandemic. The Occupational Therapy Show 2021 meant that individuals could finally access hours of live content, engaging with speakers and peers for an enriched education experience. Visitors could choose from over 100+ CPD accredited interactive lectures and practical workshops across six different theatres. The programme had been carefully curated in to seven clinical content streams – innovation, mental health, inclusivity, neurology, moving and handling, paediatrics, and housing - making it easy to find everything visitors were looking for. Some of the unmissable sessions included:
Integration across health and social care, embedding moving with dignity in a SHC approach
Deborah Harrison, Managing Director A1 / Honorary Lecturer University of Salford - A1 Risk Solutions Ltd / University of Salford
Jo-Anne Webb, occupational therapist - Rehabilitation for Independence
Sex after stroke - unlocking the taboo
Dr Kate Allatt, Inspirational speaker, GripAble Ambassador internationally published author & columnist for Stroke Rehab Times
Service User, Student, Occupational Therapist
Georgia Vine, Qualified Occupational Therapist - Not So Terrible Palsy
Last but not least, a special mention for The Occupational Therapy Show Poster Zone, a space on the show floor for thought-provoking submissions on what OTs have been working on over the past two years. A big well done to everyone who submitted - taking the time to share their findings and a huge congratulations to the winners on each day.
The Occupational Therapy Show would also like thank everyone who visited and supported the 2021 edition, what an incredible turn out! CloserStill Media have already begun organising next year and it is set to be even bigger and better!
2022 registration isn't open just yet, but if you want to stay up to date with the latest news and be the first to know what is in store for the 2022 edition, sign up to the mailing list.
About CloserStill Media
In the last 12 years, CloserStill has been repeatedly recognised as a leading innovator within the Exhibition Industry and has won more awards than any other event business in the industry. We have won over 60 major industry awards, including the coveted 'Best Business Exhibition' seven times, featured in The Sunday Times 100 Best Places to Work 3 times (2018, 2019 & 2020), been voted by members of the Association of Exhibition Organisers as the 'Most Respected Company' in the exhibition Industry. The awards are down to the people and teams that work together to deliver the events ensuring customer service and satisfaction. The accolades include: Best Trade Show (x7), Best Marketing (x9), Best Operations (x4), Best Sales (x5), Best Event Director (x4) and Best Launch or Brand Extension (x6). Adapting to digital during 2020, we have also won 4 awards at the new Digital Event Awards.