An interview with Sam Starr, Finance Director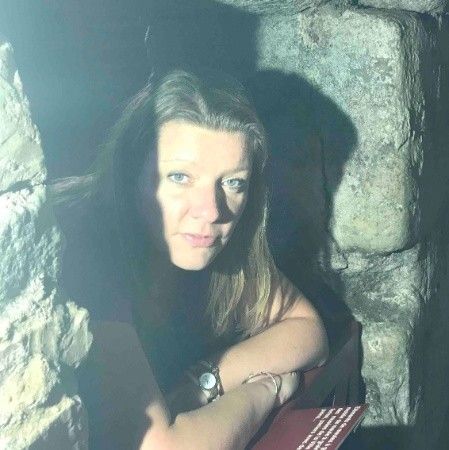 Where have you been during lock down?
In my dining room, I've taken over my dining room. But home is Stratford upon Avon, which borders the Cotswolds, which is nice, it is a good place for dog walking and horse riding.
I've got five horses which have kept me busy - I get up, feed the horses, and muck out and then ride one of the horses before sitting down for the first meeting at whatever time in the morning. I have two girls and my eldest and I ride after work if we can.
How did you find home schooling?
It was tough because my husband is a lecturer for Wolverhampton University, so he is working full time too. My eldest is at secondary school, they have been good with classes and they have been quite engaging. Whereas the youngest has not had as much work, so she has spent a lot of time on the trampoline, training our new puppy, walking around the fields, and interrupting my Zooms - I think she has said hello to everybody now, Lex, Gareth, anybody.
I've being doing what lessons I can with them, between meetings and work, but I am not the most patient of people. I am sure that my reputation has gone before me, and that is the same for my poor children.
How did you find yourself in events?
Horse-riding is what got me interested in events, I used to go down to London for the horse events in Olympia every year and make a day of it.
I was thinking I wanted to move away from the corporate world. I was in a very large PLC before and I only saw an element of it, even in a senior role.
I wanted to move into an industry I was interested in, where I could roll-up my sleeves and be involved in everything. And when I met with CloserStill, I realised that's what CloserStill was about –people making things happen to drive growth. It's all about the people.
2020 was a big year for the Finance team, how was it?
I've been through a new system integration before, although this was very different! You want to have all your heads in one meeting room, to go through everything, lots of detail with white boards, flip charts and stickers. And with the lockdown all we had was zoom so we had to adapt our plan, fast.
That has been the most difficult part of 2020 trying to stay on top of the project management side of things to get deadlines completed and stay on track.
Although sadly not running any events has helped us to a certain degree as well, as it has meant fewer transactions, and it has been easier to get hold of people and enabled us to implement it before Christmas. If we tried that in a normal year, it would have been harder.
The next stage now is the regions. The regions are going to go live on the 1st of July. I am excited though as we are already starting to see some of the benefits, with the forecasting tool and the purchase ordering system. People are already finding it a lot more user-friendly, and it has been well received so far.
The team have worked very hard to get it where it is today – I am really pleased with the project.
And straight into 21, we have been greeted by the auditors, who have been looking into the 2020 accounts. But with 11 months in one system and one month in another, we've had to match the two up to enable the audit and produce the final group staturotu accounts so it has been a busy one.
How have the show postponements gone from a Finance perspective?
I have to say, hats off to the sales team, they have done a great job. And I think if it hadn't been for the sales team having such good customer relations, it would have placed Finance in a tougher position.
From a finance perspective, the team have been trying to stay on top of moving the P&L costs and the cash around. Checking what invoicing we need to do and knowing what shows are happening, which events are rolling and then supporting the customers particularly when reallocating cash from one event to another - it's been quite tough for the credit control team.
Although it has been tough, it's definitely brought the departments together, as all the teams have had to work even closer with Finance with the show postponements and rollout of ERP Project Komputation. Even though we're not in the office, we're all so used to doing video conferencing now - we've actually got to meet more teams face to face, which is great.
What are you looking forward to most about post-lockdown?
From a work perspective, I am looking forward to getting down to the London office – I miss it! And I do really miss the people I work with and I'm obviously desperate to go to events as well. I am looking forward to that bank balance starting to grow. One of the things that excited me about coming into exhibitions was that the margins, the cashflow and business growth - it is what drives you as an accountant, it's a fantastic business to be part of.
Personally, I am desperate to go out for dinner, just with the family and not have to do any washing up afterwards. And to take the kids to the cinema and the theatre - I've got tickets for September and October, so I'm quite excited about those.