An Interview with Head of Data, Claire Adams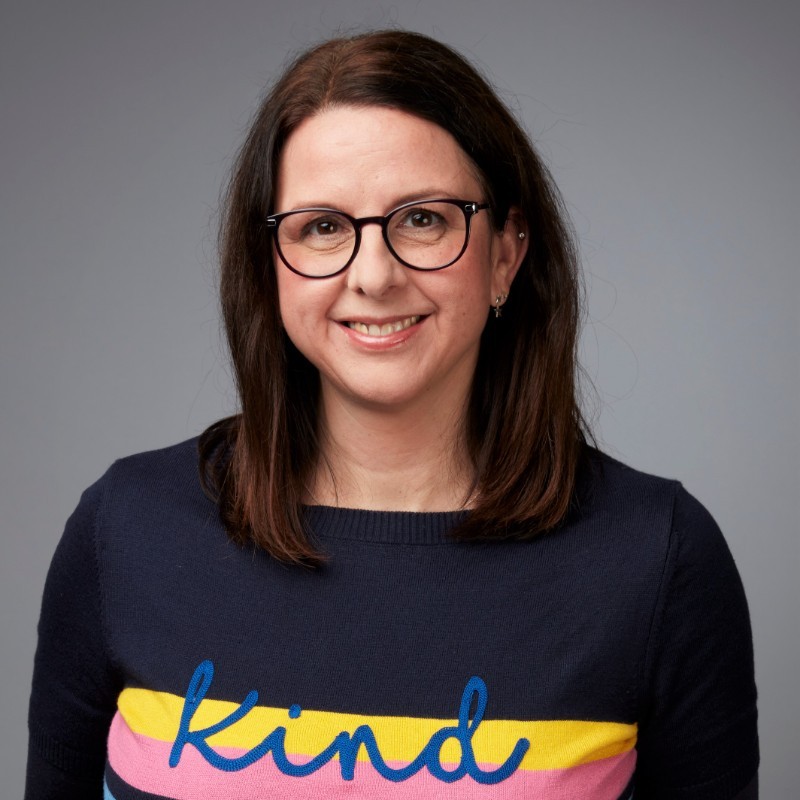 Tell us about your background
I was born in Kent, but I very quickly moved to Surrey with my parents, where I grew up on the borders of Surrey and South London, and I have lived around the same area since.
I'm very close to my friends whom I've known since High School and whist we explored places through university or work, we now all still live in the same area. I've never felt the need to be anywhere else. It's well connected, great trains and buses, and into central London in half an hour. I do love to travel for holidays though and have been far and wide.
I am parent to two teenage boys whose ambitions are to be a future writer for Dr Who and a drummer in a band. Hope they remember their mum when they are famous!
Did you know you always wanted to work in Data?
My earliest ambition was to become a teacher, so I followed that path to university, but worked all the way through my studies. I enjoyed working more than studying. I felt a quicker sense of achievement and really enjoyed the social interactions with colleagues.
I soon realised that teaching wasn't for me and made the decision to move to full time work. I don't have any regrets. I've taken Diploma courses later in life and loved the learning. My first full time role was in Customer Service. I found this really satisfying and I think this is where my desire to always work in some kind of support role stems from. Looking back, this was all about data. Checking information is correct…is it the right order, person, company etc. So frustrating when data was input incorrectly, and I would have to deal with the aftermath and an irate customer. I did look for change, however, and took a telemarketing role in a publishing company based in Kingston, Surrey. This definitely took me out of my comfort zone. I knew I could speak well on the phone, but I had never had to sell a product. My confidence rocketed and this was also the start of my B2B journey.
I became curious about Marketing very quickly, and offered extra help to the Marketing teams, completing basic campaign tasks. My next role was in a Marketing Services team. Taking campaign briefs and liaising with designers, printers and mailing house. Yes, that's right. No email at this point. The World was just dabbling in the idea that emails could be an effective marketing and sales channels. It was an interesting and creative job, very process driven, looking at budgets, reporting on campaign metrics. This is where I really started to get involved with data in its better known form. Initially setting out the criteria for segmentation and receiving huge piles of addressed labels, and as time went on, it was data files on discs all sent by courier to a mailing house.
CRM data systems became more important and more of a focus for all businesses. People started to become data 'experts' and I wanted to learn more about how data could impact the success of a campaign. I was fascinated by the insight and patterns, and also how important it was to work with good processes, system and people to get the output right. I'm still passionate about the quality of data. Technology is amazing, but it's about having solid foundations in place.
Project management came up next and I worked in a team to bring a CRM system (like an early Salesforce) into a business who had only ever used Excel to store data. Working hands on with multiple data files, and managing change meant that I learned a variety of new skills. But most important was scoping. Talking to people, listening and learning the needs of the people and the organisation.
What made you want to go into events?
I was attracted to a role at another well-known exhibition organiser and didn't know a great deal about events. Working across over 40 shows and immersing myself into portfolio teams made me as passionate about B2B exhibitions as I was about data. As a Marketing Database Manager, I could bring all the marketing and data experience together.
I thought I had a unique journey but arriving at CloserStill, I can see that there is such talent emerging from areas of the business such as Telemarketing. I think anybody with passion can succeed. You don't have to have been a computer scientist or have a maths or technical background to work with data. If you're really determined, you can upskill and you can learn.
What made you want to join CloserStill?
I had spent over 17 years in the exhibition industry, but there were so many fantastic data roles emerging. I decided to jump ship and spend the next 18 months in Media, working back in Publishing but this time, everything was digital. An amazing experience with different technologies, processes, challenges and customers. I learned and once again grew but I ultimately, I really missed events and the excitement of exhibitions, and I just didn't have the same passion. I was still checking in with my previous employers and asking how the reg numbers were looking, or how a particular system had worked out for the Marketing team.
Given CloserStill's reputation and success, as soon as I saw the opportunity to head up the Data team, I had to jump at the chance. And then fortunately, here I am now, week five so far and haven't looked back.
Tell us a fun or interesting fact about yourself
I'm an unlikely Assistant Cub Leader, called Bagheera. I've been involved in scouting since the boys were younger, helping as a parent at first. Our Scout Group is very close, and we feel like family. It's 100% voluntary but I get a lot of satisfaction seeing young people learn skills that they never would at home or school, and that they can take through life. Scouting is fully inclusive, and we never turn any child away. We make it work for them and let them know they are important.
What are you most looking forward to this year at CloserStill?
From the Data Team's perspective, looking at current/new technologies, growing our skills and knowledge, and setting out the roadmap/journey to realise the value of our data. How much difference can we make? How can we change the outcomes of some of the shows for the better, and how can we become a truly data-driven organization. We do not just want to be data busy.
On a personal level, feeling that sense of achievement, and helping the team to meet their own personal development goals. I'm really lucky to have a super skilled crew who want to keep learning and growing.